Time for the Big Question
OK, it is time to look a little deeper.
It is only too easy when you are considering a career change, to focus on superficial details without ever really dipping down to explore the heart of the matter. So you revise your resume, your scour the job ads and look for career ideas that seem to match with your skills.
Or maybe you do some more detailed thinking about your values, your interests and your personality, aiming to put together the jigsaw of pieces that make you the person you are. You hope that when you do that, all will suddenly become clear.
But what about taking yet another perspective, one that requires you to look deeper still, further than you have before?
What is your life purpose?
Many people never ask themselves this. Have you?
How does that question make you feel?
Challenged? Inspired? Confused? Embarrassed?
It is rarely an easy question to answer but it is one that is well worth reflecting on.
I believe that it is helpful to begin by letting go of the idea that there is a crystal clear answer waiting to be identified. It is more likely to be a search that will reveal its answer slowly over time and chances are you will feel it in your heart or gut before you are ever able to articulate it.
It seems to me that it is essentially about finding a way of living that allows you to be true to yourself.
Who am I?
This, of course begs the question 'who am I?' or 'who am I meant to be?'
Again, don't necessarily try to define it in sharp focus – it is more about getting in tune with what feels authentic – and also being honest with yourself when things do not feel right for you. Because whatever you may be here to do, if you are not acting from a place of authenticity, then you are playing a charade.
What matters is that you slowly develop an understanding of the conditioning that stops you from knowing yourself and that you then gradually dissolve the barriers that are preventing the real you from showing up.
Your purpose is about letting the real you shine out.
Is there a real you?
You may be wondering where that purpose comes from, but before we go too far down the line of some inborn or God given identity and purpose, let me throw in a side ball with the following video from TED.com, 'Is there a real you?'
Baggiani takes the point of view that the thing we call our 'self' is simply constructed as a result of our experiences, our beliefs, our social setting and so forth.
Essentially both Bagianni's basic position and the God-given one are quite passive perspectives, but the additional angle that Bagianni introduces is the notion that you can play an active part in constructing the person you are and thus the purpose you adopt.
How does this relate to career change?
If you are at a career crossroads, stop for a while to dig a bit deeper, to check whether you feel that you are currently living your life 'on purpose'?
Try asking yourself these questions:
Does your work allow you express something of your life purpose and if not what alternatives would feel like a more authentic expression of who you are and what you are here for?
What can you do to actively construct a sense of self and purpose that will feel authentic?
Cherry Recommends
The Artist's Way
Julia Cameron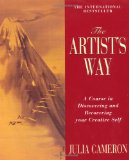 At first glance you may think this book is only for 'creatives' – after all, the subtitle is 'a course in discovering and recovering your creative self'.
However, as I read through the book, it really spoke to me, even though I am not an artist. It seems to me that everything Julia Cameron says about discovering or recovering your creative self can be read as an extended metaphor for discovering who you truly are inside. And at the end of the day, that journey of discovery is what lies at the heart of any career change.
The book is presented as a 12 week course which takes you through the key challenges which artist will be very familiar with but which in fact are themes we all face at various points in life. She helps you explore issues like:
What is blocking you?
Who around you is helping or hindering your progress?
What are the dreams you have buried inside you?
Learning to listen to your heart.
Excavating the messages from your past that may be holding you back.
How to be gentle with yourself as you explore.
…and much, much more.
Many artists would say that in their hearts they know they are here to make art, write, sculpt, perform…
You also have a purpose in this world – to discover or recover 'the real you' who may have been lying dormant for a long time.
I highly recommend this book for anyone who can feel the need for change bubbling up inside them. Read it with an open mind, inserting 'the real me' in place of 'artist' and 'creative self'.
Follow the course and you will find yourself on a real journey of discovery.
Enjoyed this article?
Did this post touch the spot for you? Then use the icons below to tweet it or share it on Facebook or click the 'here's how…' link for more ideas.
From the 5 Minute Career Coach February 2012